LikeRE.com was founded by Real Estate Professionals, for Real Estate Professionals.

Join our group of real estate industry
co-founders.



Minimum Investment
$5,000
@ $1.00 per Common Stock Share

additionally, you will receive an equal amount of $1.00 LKRE Tokens to spend on services offered by our LikeRE Industry Partners.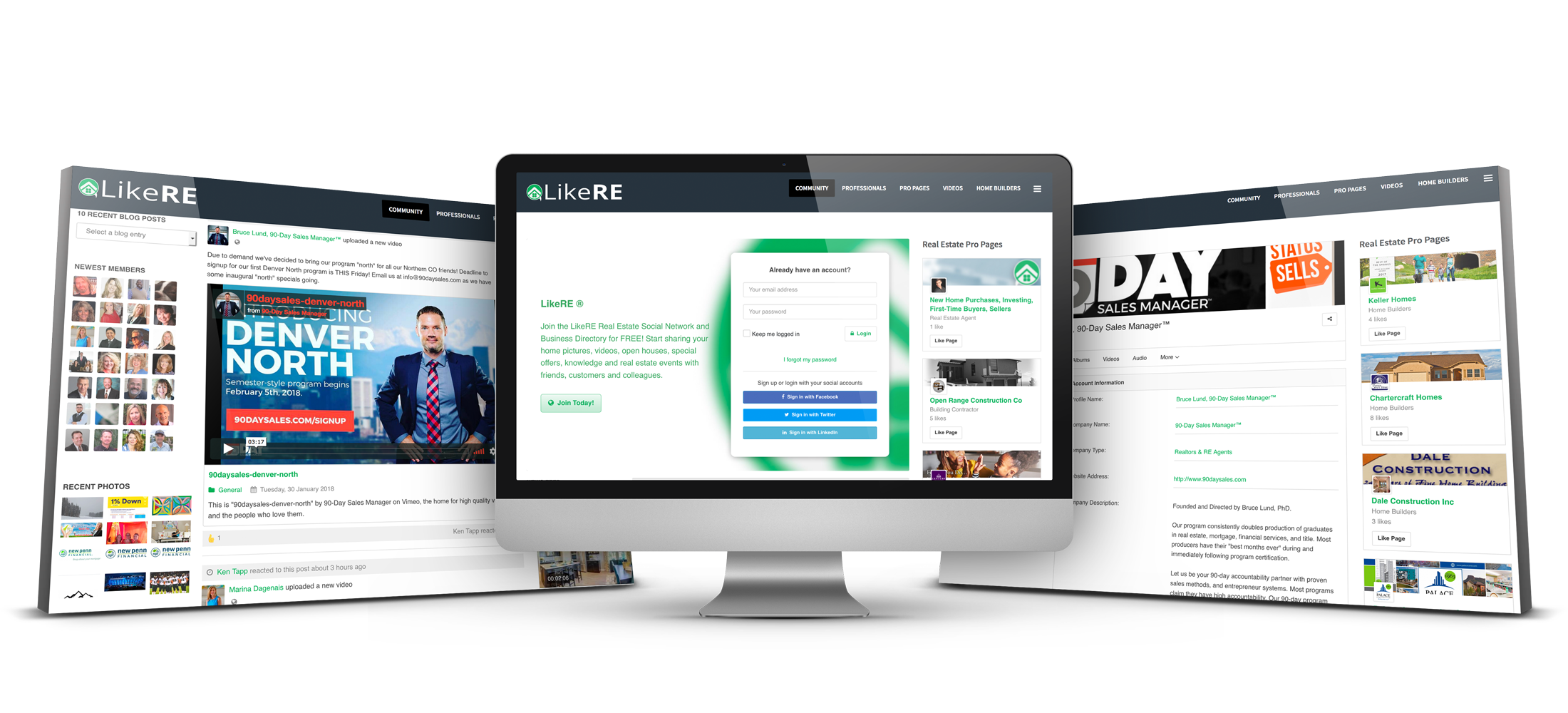 Become a co-founder and owner of LikeRE
This pre-IPO investment offering is through a filed SEC Regulation D 506(c) exempt offering.
LikeRE is owned by the Real Estate Industry
More than 100 co-founders, real estate investors and industry advisors came together to create the LikeRE.com Real Estate Professional Development & Social Network, to change the way the residential real estate industry communicates, by providing a better alternative to Facebook, LinkedIn, and the other mainstream social networks that are not specifically designed for real estate professionals, buyers, sellers and renters.


With an audience of more than 10 Million real estate professionals in the United States, we believe that socially connecting all of these professionals, buyers, sellers and renters together in one social networking platform will lead to greater industry communication, increased marketing efficiency, better reputation management for professionals, higher levels of education, and buyers, sellers and renters that will put greater savings in their pockets.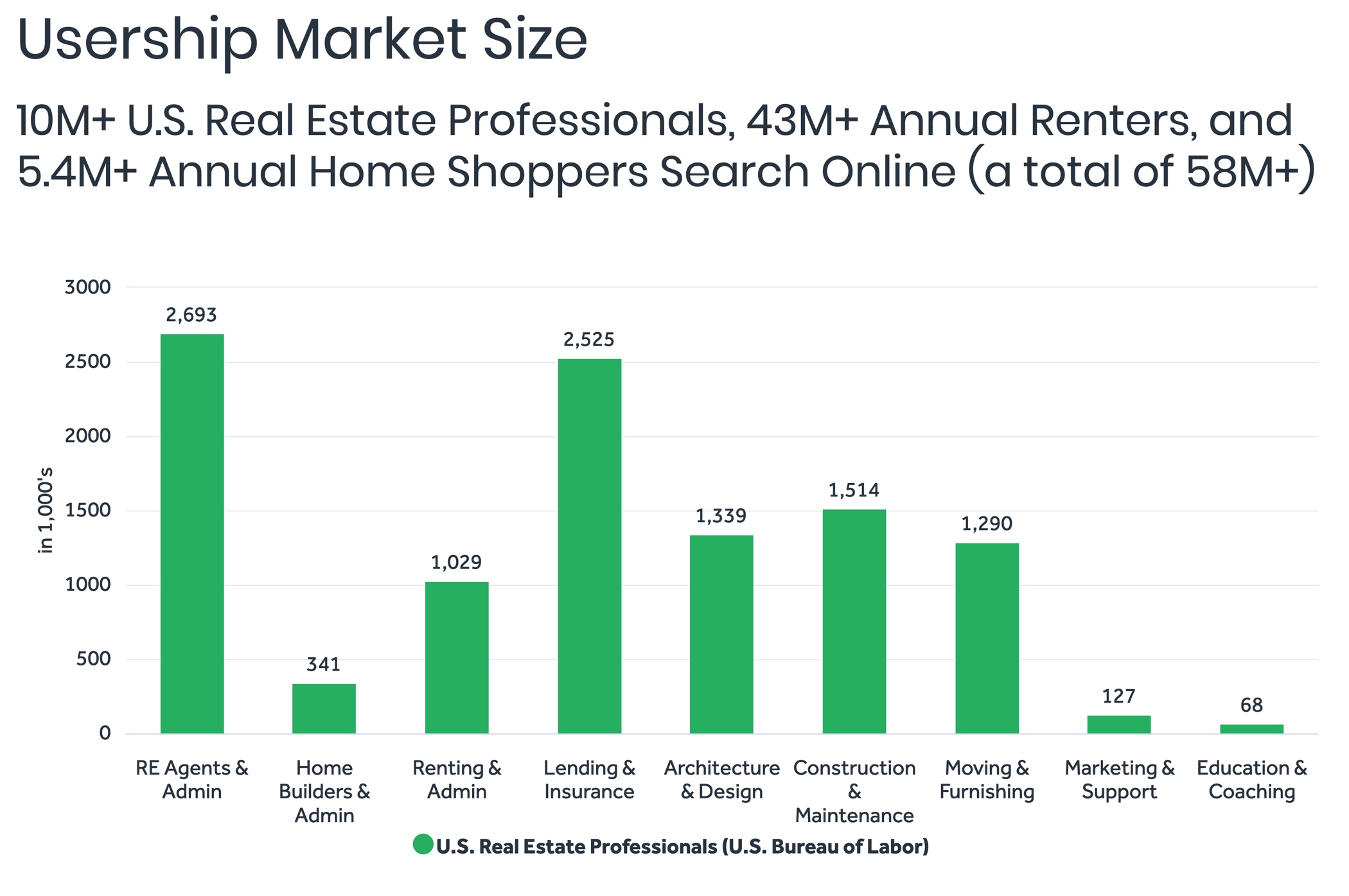 Top 10 Industry Stats That You Need To Know Before Investing in EdTech Startups
Educational technology is the combined use of computer hardware, software, and educational theory and practice to facilitate learning.


More than 66% of REALTORS® are women.


Only 31% of REALTORS® have completed a bachelor's degree or higher.


There are more than 106 thousand real estate brokerage firms operating in the United States


67 percent of REALTORS® are licensed as sales agents, 21% hold broker licenses, and 14% hold broker associate licenses.


The typical REALTOR® is a 56-year-old white female who attended college and is a homeowner.


20% of Realtors have had their license for a year or less.


Overall employment of real estate brokers and sales agents is projected to grow 5 percent from 2021 to 2031, about as fast as the average for all business professional occupations.


45% of brokers report that "keeping up with technology" is the biggest challenge their agents face.


By 2025, the estimated median age for Realtors in the United States is 39.
FORWARD-LOOKING STATEMENTS DISCLAIMER
This information does not constitute an offer to sell or a solicitation of an offer to buy securities or assets of LikeRE.com, Inc. All information presented herein with respect to the existing business and the historical operating results of LikeRE.com, Inc. and estimates and projections as to future operations are based on materials prepared by the management of LikeRE.com, Inc. and involve significant elements of subjective judgment and analysis which may or may not be correct. While the information provided herein is believed to be accurate and reliable, LikeRE.com, Inc. makes no representations or warranties, expressed or implied, as to the accuracy or completeness of such information. In furnishing this information, LikeRE.com, Inc. reserves the right to amend or replace some or all of the information herein at any time and undertakes no obligation to provide the recipient with access to any additional information.
No information on this website should be construed as any indication whatsoever of the Company's or LikeRE's future financial results, revenues or stock price. There are no assurances that the Company will successfully take LikeRE public or sell the brand, company or assets to another company. Nothing contained herein is or should be relied upon as a promise or representation as to the future. This information includes certain statements, estimates and projections provided by LikeRE.com, Inc. with respect to its anticipated future performance of LikeRE. Such statements, estimates and projections constitute forward-looking statements within the meaning of the federal securities laws.
These forward-looking statements are subject to known and unknown risks, uncertainties and other factors, which may cause actual results to be materially different from those contemplated by the forward-looking statements. LikeRE.com, Inc. undertakes no obligation to publicly update or revise any forward-looking statements, whether as a result of new information, future events or otherwise. The recipient of this information is cautioned not to place undue reliance on forward-looking statements. No representations or warranties are made as to the accuracy of such forward-looking statements or whether any of the projections included herein will be realized.
Financial Projections
CAUTIONARY ADVICE REGARDING FINANCIAL PROJECTIONS
The financial projections of (the "Projections") set forth herein constitute forward looking statements within the meaning of the Private Securities Litigation Reform Act of 1995. Our actual results, performance or achievements or industry standards may differ materially from those express or implied in in such forward-looking statements.
The forward-looking statements in the Projections are not guarantees of future results and are subject to the risks contained herein that could cause actual results to differ materially and adversely from those expressed in any forward-looking statements. As such, you are cautioned not to place undue reliance on such forward looking statements. The Company is under no obligation (and expressly disclaims any such obligation) to update or alter its forward-looking statements whether as a result of new information, future events or otherwise. All forward-looking included below are qualified in their entirety by this cautionary statement and the statements under "Important Information" below.
Important Information: The Projections and the underlying assumptions were prepared internally by the Company's management, and were not prepared with a view towards compliance with published SEC or the American Institute of Certified Public Accountants for preparation and presentation of financial forecasts or generally accepted accounting principles. No independent auditors or independent accountants, have compiled, examined or performed any procedures or review with respect to the Projections, nor have they expressed any opinion or given any form of assurance with respect to such information or its achievability.
Furthermore, the Projections are necessarily based on numerous variables, assumptions and estimates that are inherently uncertain, many of which are beyond the Company's control, including a wide variety of industry performance, general business, economic, regulatory, market and financial conditions, as well as matters specific to the Company's business.
The Projections should not be regarded as an indication that any of Company or its affiliates or management considered to be predictive of actual future events. Actual results will likely vary from the Projections, and such variations may be material. Neither the Company or its affiliates or management can give you any assurance that actual results will not differ materially from the Projections.

INVESTMENTS UNDER RULE 506(C) OF THE SECURITIES ACT OF 1933, AS AMENDED (THE "SECURITIES ACT")

Be advised of the following regarding 506(c) Offering to Accredited Investors only: (a) Rule 506(c) Offering is only available to Accredited Investors as defined pursuant to Rule 501 of the Securities Act; (b) any person claiming Accredited Investor status must verify their Accredited Investor status to the Company's satisfaction; the Company may accordingly reject a proposed investment in the Company; (c) an investment in the Company involves innumerable risks; investors need to carefully their financial situation and risk tolerance; (d) investors should consult with their financial professional. Including whether such investment is suitable under their circumstances; (e) the securities offered have not been registered under the Securities Act and may not be offered or sold in the United States absent registration or an applicable exemption from registration requirements; (f) no government agency has reviewed or approved the securities being offered or made any determination concerning the accuracy or adequacy of the information provided.


Investor Relations
(877) 700-7107
Ext. 701